Personalisation in digital marketing is nothing new to marketers, or consumers. It's commonplace to see name data and basic segmentation being used to add a personal touch to activities such as email ECRM. However, in today's modern marketing environment, where consumers have become disenchanted by generic messaging and more receptive to communications that are tailored to the individual, switched-on brands are developing personalisation strategies that are far more sophisticated and engaging.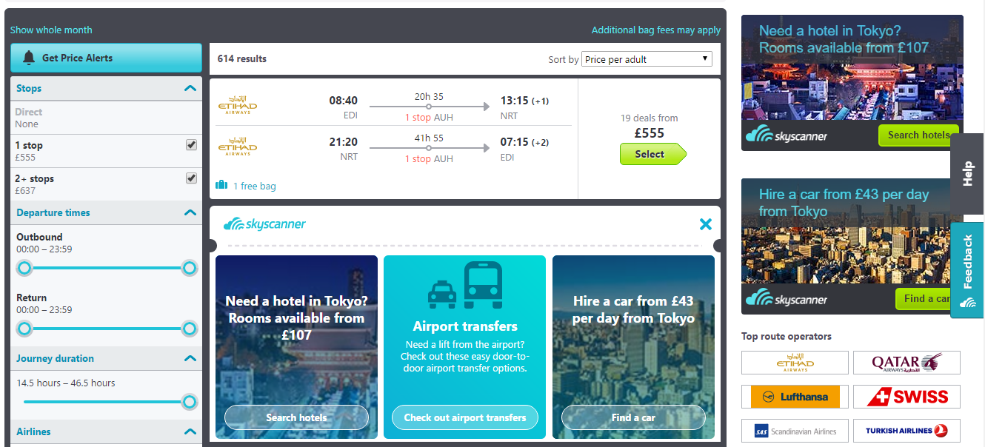 The range of leading-edge tools that are now available to marketers, including data capture and analytics systems, social listening tools and behavioural algorithms, allow brands to gain a far better understanding of their consumers than ever before. When this insight is used effectively it's possible to deliver the rich experiences that audiences desire and simultaneously build advocacy that encourages repeat business. Amadeus research revealed that within the travel industry, 26% of consumers are more likely to respond to communications that are based on personal interests and 22% are more likely to respond to offers that are tailored to their location.
Skyscanner uses behavioural analysis to deliver relevant content to consumers. Searching for a flight from Edinburgh to Tokyo returns a page that, as well as displaying the flight results expected, also includes a range of cross-promotional items related to the search, including Tokyo hotels, car hire and airport transfers. By storing a cookie on a user's system Skyscanner are able to target consumers on third party sites with remarketing ads that prompt the user to return to their site. The flight search engine is effectively using the data they've learnt about consumers' purchase intent to cross-sell other relevant products and services and maximise sales opportunities. The retargeting display strategy further optimises the conversion process by providing a quick route back to the purchase journey after a user has navigated away from the site.
The flight operator, Easyjet employs a similar strategy, but in addition to this, once a booking is complete, the company utilise the flight data captured during the sales process to activate a tailored ECRM programme. In the period leading up to a flights' departure a series of email communications are sent to encourage purchase of ancillary items that are tailored to each trip. This is another example of a company using what it knows about consumers to provide useful destination information which in turn helps to generate add-on sales and, importantly, avoid losing out to competitors.
In 2017, hyper-personalisation is one of the most exciting areas for brands to deliver added value for consumers. An award winning case of this being delivered offline as a result of online data capture is a campaign run by Brazilian flight operator TAM who integrated Facebook Connect as part of the online purchase process and, by gaining access to consumer images, name data, interests and life experiences, were able to create a personalised newspaper for passengers on board a special anniversary Milan to Sao Paulo flight. 
This is a fantastic illustration of a company going above and beyond to connect with its consumers on a much more personal level and the campaign successfully generated a lot of positive sentiment for the airline that continues to drive interest and engagement long-term.
As a consumer, I'm an advocate for well executed personalisation in marketing. Content that complements the online journeys I make is a great way to discover new products, services and media. Netflix recommendations that are tailored based on user viewing habits are a great way to discover films and documentaries that may otherwise be missed. I also enjoy the wow factor experience of hyper-personalisation and was delighted when Airbnb thanked me for six years of hosting by delivering a surprise gift of champagne during a recent trip to Amsterdam. Whilst some may argue that any form of personal data usage in marketing is intrusive, I'd argue that if personalisation is used to enhance an experience by providing useful information, increasing efficiency or delivering exceptional customer service it can create stand-out that will encourage loyalty and long-term engagement in what a brand has to say or offer, a win-win for brands and consumers. 
If you're interested in discovering innovative personalised solutions for your brand in 2017, get in touch with our team of digital experts.