Pop Ups. Although they can be a useful aid to drive conversion, most will agree that they're mainly an irritation. The last thing we want when browsing online is to arrive at a site and a big pop up appears – regardless of what device we're using. And even worse – when the close button is so opaque and difficult to close. On the other hand, I can't imagine that pop ups have vast amounts of positive impact in terms of user journeys or bounce rates, unless if the user has an ad block installed or has closed the ad and proceeded onto the website.

Six months ago, Google made the unsurprising observation that intrusive interstitials provide a poorer experience compared to pages without, especially on mobile devices as they could fill the entire screen. Thus, from 10th January, Google started to penalise websites that present intrusive interstitials. 
So, that's great! But what is an intrusive interstitial? Aren't all pop ups intrusive? To answer this. Google released the following image on their blog to describe this: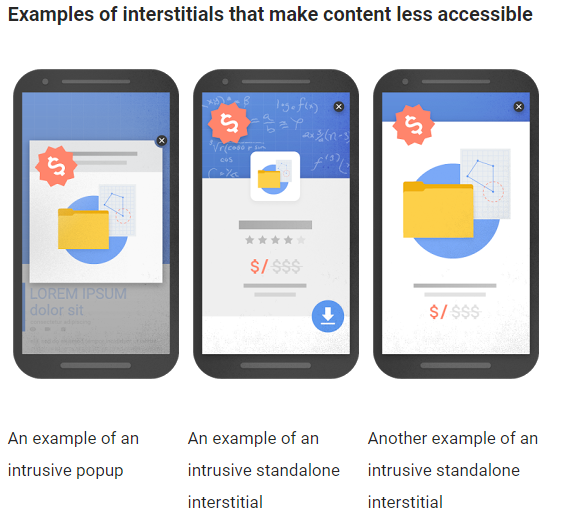 However, the following pop ups would still be allowed and remain unaffected, only if used responsibly: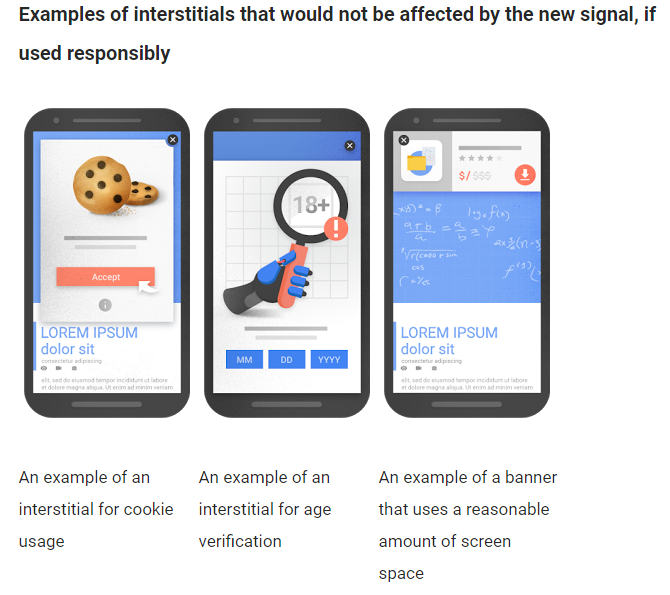 Just over a week after the penalties have been introduced, there have been some rumours that websites have dropped 10 places in Google search results. Although this doesn't sound like much, websites could easily slip onto the next page on Google mobile results, which could be critical to organisations who rely on organic traffic.
I think that it's great that Google has finally realised that pop ups are an issue and that they are starting to act upon this. However, this is only being rolled out on mobile for the time being as it's only linked to mobile search; therefore, it will be interesting to see the impact on desktop and if the number of pop ups reduce as well. Additionally, Google is only looking at the search result destination page, which suggests that pages deeper into the site could have intrusive interstitials, which isn't too dissimilar to when the 'mobile friendly' tag was added to mobile search. 
Although this is a step in the right direction for Google, it can be suggested that this is only the beginning.