Social media is an ever growing, ever evolving platform that's become a crucial tool for brands to drive further reach, engagement, and sales. As some might say, "you've just got to be on social these days".
Considering we're all building our social strategies for 2017, here are our thoughts on the social trends to expect in 2017. Now, we aren't saying these are ground breaking discoveries – they are, however, food for thought.
Authenticity Is king
Social media levels the playing field. On these channels there is no servant and master relationship. It's all about peer to peer. Audiences now, more than ever, demand a more authentic discussion with the brands they love. Thanks to the likes of Facebook and Instagram, we're much more attracted to what our peers think about products as opposed to what brands tell us to think about them.
This leads into the use of UGC (User Generated Content to those not aware), which offers brands a more sincere endorsement, as well as capturing the audience's true feelings about products and brands. Hey, why do you think a high rating on Trip Advisor is so important to restaurants?
So how does this work for us marketers? Embrace the customer voice and see them as your equals. Showing your audience that you trust them, will take you far and you'll reap the rewards like no other.
Data-driven creativity
Increasingly brands want to see the insights and analytics behind the decisions that we make on social. Which, if we're honest, makes absolute sense – each decision made should have reasoning behind it. Which brings us to what we at Multiply like to call "Data-driven creativity", we use the data gleaned from the likes of Facebook Insights to drive the next creative decision we make when it comes to strategy and campaign creative. This pushes us to be more imaginative and to not rest on our laurels. Brands want to see results, and the only way we can give them that is by using the data. With competition on social ever growing – you snooze, you lose.
Paid content – Give us your money honey
It's clear that those algorithms on social platforms (not looking at anyone… Facebook) make it harder for marketers to achieve cut-through for their respective brands with organic content. So what are we to do? Paid social is becoming an integrated part of any marketer's tool kit. By using the combination of engaging content and paid social we can now ensure that our hard work in creating the right content hasn't gone to waste, and is seen by our target market, not to mention reaching the audience far quicker. Which means we can achieve the desired results in a more efficient manner. Plus within a few hours you can see what's working, what's not, and channel your efforts.
Win win.
Customer service – You OK?
Social media never sleeps, which for a disgruntled consumer means it's the perfect outlet for any grievance. Looking at research from JD Power, 67% of consumers will now use social media for customer service instead of more traditional methods. Which for brands means that you can no longer see the channels as a tool for just product promotion. Building in a strategy to look after your customers on social media is key – ignoring anyone will raise your customer turnover rate, not words anyone wants to hear. Providing an excellent service via social platforms reinforces a customer relationship, increases advocacy and the odds of people making another purchase. Unfortunately, this likely means you'll need a team that can cover longer hours than the normal working day (what's that again anyway?). But in a world where consumers can quickly hold a brand accountable and raise hell, a brand's gotta do what a brand's gotta do.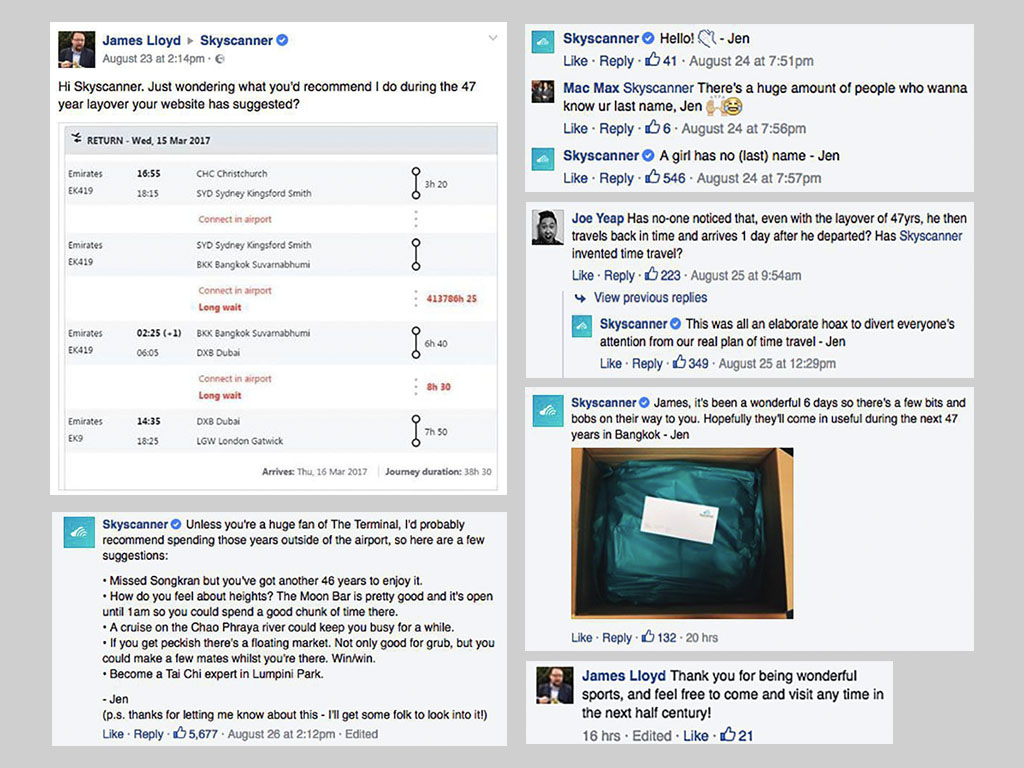 Getting it right for you
So, what's the big trend to focus on for you? That's a very good question, one with an answer that changes depending on who you are and what you're looking to achieve in 2017 and beyond. Having said that, we can give you some guidance:
If you're a bigger well established brand and what would be considered a household name, nailing your customer service strategy on social is key. It's so easy for brand names to be dragged through mud and lose years of good work due to a few slip ups. Love your customers and they'll love you back – plus their good word is free.
However, smaller brands and SME's, while still wanting to nail that customer service, will be looking for authentic content from their audience to build trust and establish a genuine relationship – influencer marketing and UGC will define your strategy for 2017.
If you're interested in hearing more about social strategy and how the team at Multiply can help you, or you just fancy a biscuit and a natter let us know here.